Learn How To Motivate & Connect With Even Your Most Challenging Students So That You Can Effectively Reach & Teach ALL Students and ENJOY Your Job Again!
From the Desk of Marie Kueny
Dear Compassionate Educator,
If you want a personalized plan to address the needs of YOUR students, a host of exclusive trainings literally in your back pocket to help you and your students THRIVE in the classroom, AND a community of supportive teachers from around the nation...
Then you are absolutely in the right place at the right time.
Inside my Compassionate Educators Program, you get all that and MORE
Inside this program, I walk you through the exact steps on
How to transform your classroom into a nurturing community of students who are motivated and excited to learn,
How to connect with students that are prone to conflicts,
Be a classroom leader that sets you apart as a teacher who CARES enough about students to inspire and support them AS WELL AS care about yourself enough to stop sacrificing yourself in the process.
I have searched for a model like this without any success, so I decided to create it myself.
After spending 20 years in a multitude of capacities in schools and in the community,
From parent educator to youth program coordinator to school counselor and now as a Coach for amazing teachers such as yourself, I take the most simple yet highly effective strategies from 20 years of experience, hundreds of books, research papers, and educational articles, as well as hundreds of conversations with other educators at every level, to bring you a program that will serve you with a foundation that will last your career.
Effective emotional regulation skills to help your students cope with challenges.
Trauma-informed practices
& conflict resolution tools for a calmer classroom.
Strategies to increase your time, energy & joy!
Are right here in the Compassionate Educators Program!
The Compassionate Educators Program is an interactive, innovative, and collaborative approach that is teacher-centered so that your students get the best version of you.
Your innate wisdom, your personal strengths, and your unique personality can SHINE As you lead students in a very authentic and empowered way.
I need to warn you though, The Compassionate Educators Program is not for anyone who is not committed to the field of education for the long haul.
Yes, it is true that teacher burnout and compassion fatigue are increasingly common. In fact, that was one of my main sources of inspiration to create this program. I know that nearly half of teachers leave the profession in the first five years, while those who stay often feel deflated and demoralized as years go on, counting down the years until retirement.
We all know that students can sense when their teachers are just going through the motions. It's hard for students to feel motivated to learn when teachers are struggling to feel motivated to teach!
I completely understand though and it's never too late to refuel, recharge, and get back on track!
If you are determined to educate the next generation of students, I am committed to helping you embrace your power as a teacher.
So the second thing I need you to know is, I only have limited spots open.
While I wish with all my heart that I could support every teacher, new and seasoned, in every school across the nation, it is not possible… yet … (yes, I love growth mindset concepts and tools!)
There are only 10 spots available so that I can personally know and support all of the teachers in the Compassionate Educators program. We focus on...
What are your goals and desires as an educator?
What are your challenges and roadblocks?
What sets you apart from the rest and how can you utilize your unique gifts to make a positive difference for your students?
The amount of time and support I give each teacher allows me to accept only up to 10 educators into the program at this time.
Will you be one of them? I hope so!
You may be wondering why NOW is the right time to join the Compassionate Educators Program…
I'm glad you asked ;-)
Here's why this is THE BEST TIME to join!
The truth is many of our students are experiencing a great deal of:
Confusion
Anxiety
Grief
Confusion
Trauma
right now. They need teachers who have the skills, tools, and compassionate approach to help them cope more than ever before (and we know how much this was needed before).
This is not a time to wait it out and see what happens.
This is a time to get clear, and get the support in order to support our most society's most vulnerable...
children who are struggling, not just academically, but emotionally and socially as well.
A student's social and emotional wellbeing significantly impacts their academic performance, so by addressing their needs from various angles, the whole child is uplifted. There are fewer conflicts and more cooperation.
Less talking back and more personal insights.
Less drama and more connection.
"Marie, I don't know about that, it sounds like a lot of work!"
Teacher, I got you!
Together, let's take these off your plate...for good!
Overwhelm
Disconnect
Frustration
Lack of confidence
Lack of support
Unnecessary tasks
When you fill your time with activities that energize and empower you, it feels like you gain time and learning ways to be more effective in the classroom feels fun and light!
Yes, it can be scary to step into your power as a classroom leader, but it feels AMAZING on the other side!
When you see your students getting along, smiling, and asking for help when they need it,
When you connect with parents and colleagues in a collaborative rather than a competitive way,
Teacher life becomes exciting again!
Beware of the side effects though…
Your friends and family may wonder why you aren't coming to them as often with "crazy day" stories.
They may even see you smiling more!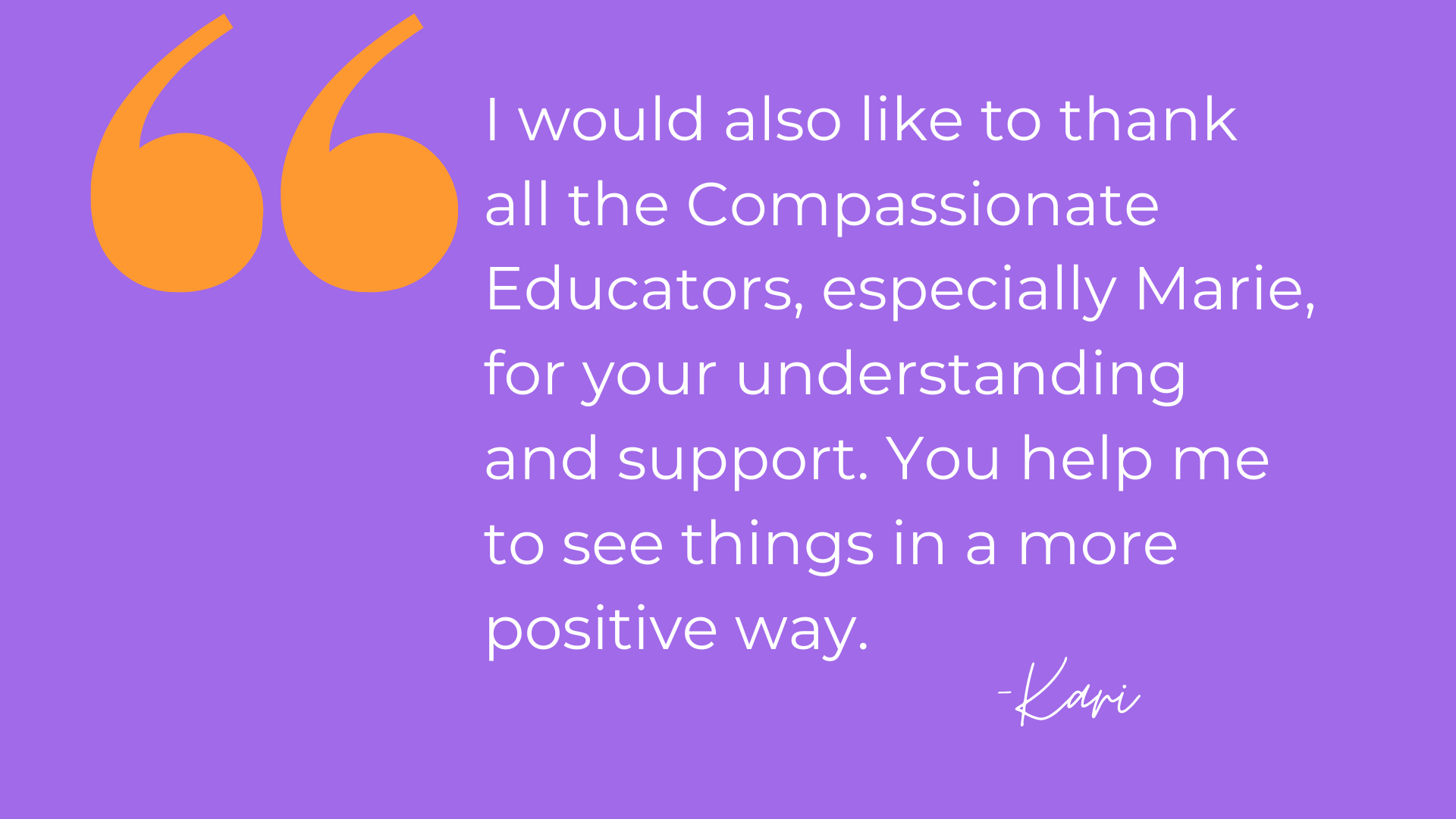 So what exactly do you get with The Compassionate Educators Program?
Weekly Group Sessions
Most of the teachers in my program say that THIS is their FAVORITE part of the program…
The Weekly Compassionate Educators Table Talk Sessions where you meet virtually with other teachers from around the United States to:
Learn about methods that are working in other classrooms
Get feedback without criticism or fear
Make friends that understand what you are going through
Connect with Marie weekly to help you gain clarity
A Customized 1:1 Goal Setting Session
Leslie described this inclusion as "having my own personal school counselor!"
The most powerful way that support meets strategy meets breakthroughs...
Your 1:1 coaching session with Marie, where you will:
Discuss your action plan
Have an accountability partner who will be your biggest advocate as well as give you nudges to step into the role of a compassionate classroom leader
Feel safe to express concerns or gain clarity on professional concerns
Strategize how to resolve conflicts or move through barriers
Online Course
Self-paced and available to you 24/7...
The Compassionate Educators Online Course which includes that you wish they had included in college! The following modules are currently included, and you will have access to every update and addition for as long as you are in the program!
Building a support system so you never have to feel alone.
Time management strategies specific to teachers so you can get back some of your time... life's most precious asset.
How to create a classroom that inspires so that your students feel heard, seen, and valued while you gain your voice and your sanity back.
Trauma-Informed classrooms so you are confident how to help students with a trauma history and they enter your classroom more calm and focused.
Emotional regulation and resilience strategies including my proprietary The Compassionate Co-Regulation Model so that you and your students are working towards the same goals.
BONUS sessions including:
How to use your voice with confidence
The Life-Changing Teacher's Workshop
and more!
Private Community
A private Facebook group which is accessible ONLY to members of The Compassionate Educators Certification Program so that you can stay CONNECTED to the team and each other!
INCREDIBLE BONUS!
Guest Expert Sessions
Quarterly virtual sessions with guest experts to increase your productivity, uplevel your self-care and reduce burnout.
CEU's AVAILABLE (Priceless)
When you complete The Compassionate Educators Program, you will be eligible for 30 Contact Hours/3.0 CEUs.
LIMITED TIME BONUS!
An exclusive 1:1 session with Marie to use anytime during your time in the program so that you are confident in creating the career and life you desire!
You have a roadmap to achieve your vision of success.
This limited-time bonus is only included when you register BEFORE September 30th!
EVERYTHING YOU NEED TO BE A CONFIDENT LEADER IN YOUR CLASSROOM IS RIGHT HERE FOR YOU INSIDE THE COMPASSIONATE EDUCATORS PROGRAM.
The 6 month program includes EVERYTHING listed above at an incredible value!
Schedule a call today to learn more!
You'll get full access to EVERYTHING listed above!!
I am not going to sugarcoat it, this program isn't for everyone.
It's for educators who want to
Make a positive, lasting impact on your students
Create a safer and more enriching classroom community
Connect with your students to increase motivation and engagement
Recognize the impacts of trauma and how to build resilience in students and yourself
Develop a customized plan for classroom management
Have unparalleled support from the founder of Compassionate Educators, as well as from educators nationwide
If this IS you and you are ready to invest in yourself and your future as a professional educator, come join our mission and purpose in The Compassionate Educators Program!
Here's what other Compassionate Educators are Saying
Mariano
I like that Ms. Kueny takes the whole student's life experiences into account. I have seen first hand how she promotes empathy, positive social skills, and compassionate values when educating children and dealing with parents. She is also culturally sensitive and is abreast of best practices and resources.
Samantha
It was a pleasure working with Marie. Her positivity and growth mindset was infectious amongst students and staff. She helped me to grow as an educator through compassionate support and courageous conversations
Tessa
As a School Social Worker I recommend Compassionate Educators with Marie to remind ourselves of the check-ins that are necessary as a professional. Marie is genuine, authentic and transparent with tools that give you a deeper look at the work we do on a daily basis.